A composer who creates new music is a special person, and so is an artist who re-creates the music of earlier geniuses. When one person can do both, the effect is musical creativity squared. Preparing for a national tour during the next few months, [Lawrence Axelrod] delighted the audience...
Reviews

Of the professional smaller orchestras and ensembles based in the capital, the London Sylvan Ensemble is notable for its policy of giving a premiere of a new work, written with the players in mind, in each programme.
…The American Lawrence Axelrod's new piece, Evolutions, made an equally strong impression Although written in a very different present-century language, it impressed as a serious and purposeful score through its integration of brief aleatoric passages. The nature of Axelrod's basic material coalesced to make a strong emotional and intellectual impact. This gifted composer's writing lies always within each instrument's normal range, and one looks forward to hearing this intriguing work again.
—May 04, 2019
St. James Church, Piccadilly, London
Reviewed by John Alexander

Axelrod: "The Heart Revived," a CD Review by Joshua Rosenblum, Opera News Lawrence Axelrod is a Chicago-based composer whose fresh and distinctive music deserves to be more widely known. The centerpiece vocal work on this disc, Night of Stars, was written for the composer's longtime friend and collaborator Liz Norman, with a text of Axelrod's own creation (his first, according to the notes). The emotionally turbulent harmonic language hovers tantalizingly on the porous border between tonality and atonality, and the work successfully reflects an "interpersonal and superpersonal connection," with an accompanying deep relationship to nature. The swooping, upwardly sequencing orchestral figure that recurs is an excellent depiction of a shimmering sky full of shooting stars. Mezzo Julia Bentley's velvety voice trembles with urgent feeling. Read the full review.
—January 17, 2017
Joshua Rosenblum
Opera News Magazine
Lawrence Axelrod: "Six Brandenburg Fantasias." Ensemble Nouvelle Epoque (Innova): Chicago composer Lawrence Axelrod devised his 2002 set of works for solo instruments and chamber ensemble as companion pieces to J.S. Bach's six "Brandenburg" Concertos. Rather than imitating Bachian style, he expanded on "the possibilities inherent in Bach's orchestration," as he explains in his liner note. The result is succinct, accessible, cleanly crafted music, couched in an airy neoclassical style and making canny use of different combinations of instruments, per Bach's originals. The various Chicago soloists and freelance musicians who make up the "Ensemble Nouvelle Epoque" acquit themselves well under the composer's direction.
—May 19, 2015
John von Rhein
Chicago Tribune
Axelrod based "Songs of Yes" on the poetry of his friend Lorraine Schechter, a Santa Fe artist and writer. The texts were sung with elegance and simplicity by the ever-reliable Julia Bentley, who offered a particularly expressive and natural rendering of the poem "Pantoum for Spring". In "Just Before Fall Equinox" the high strings were delicate, soft raindrops while the winds created the sun and the breeze.
A speaker's voice used sparingly, and to tremendous effect in the final poem, "What he didn't see". The text describes an artist practicing her craft and while Bentley sang about the various scenes being reduced to paper, Janice Misurell-Mitchell changed the single word "drawing," creating a wonderful emphasis, rather like a drum with a voice. It was tremendously effective. Schechter, who was in the audience, was visibly pleased with the results.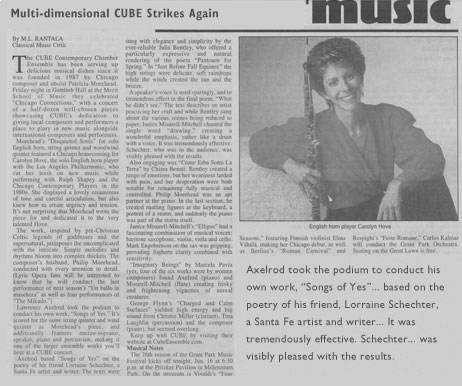 —June 12, 2010
Hyde Park Herald
The contemporary chamber ensemble CUBE bestowed their New Music Award on American composer William Bolcom last month, and before a reception with scrumptious treats, served up some of Bolcom's most tasty music... Pianist Lawrence Axelrod had remarkable elasticity in "Nine New Bagatelles" and knew when to offer perfect clarity and when to smudge the colors.
—December 9, 2009
Hyde Park Herald
...circling, circled... by Larry Axelrod
"Sentenced to Dream" by Tera de Marez Oyens
Pianist Lawrence Axelrod plays "Sentenced to Dream" by Tera de Marez Oyens.
"I Hate My Neighbors" by Lawrence Axelrod
The Southern Illinois University Percussion Ensemble plays "I Hate My Neighbors" by Lawrence Axelrod.
Death Angel by John Anthony Lennon played by Larry Axelrod
I played this work recently at a CUBE concert in Chicago.
... Other composers found beauty in metaphor, such as Lawrence Axelrod with his "Quilt Duets," a triptych on texts by Mark Doty, Jim Randone and others, affectingly sung by soprano Julia Bentley and baritone Jeffrey Strauss, with Axelrod at the piano.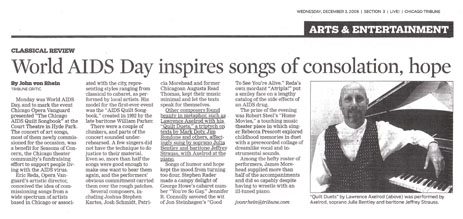 —The Chicago Tribune, Arts and Entertainment
The composer has at least one enviable ability: It is not easy, in a time when convention no longer provides formal structures, to write persuasive and coherent half-hour spans. "To Be Danced" for piano trio, and "Moonsongs" a cycle of seven songs to various poets, last that long; the "Serenata" for 12 instruments is a healthy 18 minutes, and each seemed of a piece.
...There is a beautiful re-entry of the piano at the end of the trio, and in general the instrumental dramaturgy, so to speak, is sound. In the serenade, Mr. Axelrod earns good marks for making precise use of a narrow range of percussion colors, where so many composers would throw themselves profligately into the realm of mere sound effect.
... Mr. Axelrod conducted the "Serenata" convincingly.
—The New York Times
... pianist and composer Lawrence Axelrod continued the tradition of Mozart, Beethoven, and Rachmaninoff last Friday. A composer who creates new music is a special person, and so is an artist who re-creates the music of earlier geniuses. When one person can do both, the effect is musical creativity squared. Preparing for a national tour during the next few months, he delighted the audience...
—The Santa Fe Reporter
Using texts by Rainer Maria Rilke, Axelrod's "Anges et Déesses", also for voice and string quartet, was more sculpted. The second poem... had an organic quality, the string quartet ebbing and swelling with human breath while [mezzo-soprano Julia] Bentley's line floated overhead like a persistent hallucination.
—The Chicago Sun-Times
The contemporary chamber ensemble CUBE returned to Hyde Park on Sunday for an afternoon recital in the Lutheran School of Theology.
...The highlight was the sprawling work for baritone and piano, "The Immanence of Angels" with composer Lawrence Axelrod accompanying soloist Jeffrey Strauss. Jumping back and forth between texts of James Broughton and Rabindranath Tagore, Axelrod alternated between standard keyboard playing and extended techniques such as plucking the strings inside the piano case. His engrossing work captures your attention less for its lyricism than for its striking evocation of mood. Strauss sang with conviction and displayed tender understanding of the poetry.
—The Hyde Park Herald