Lucrezia Borgia (Donizetti)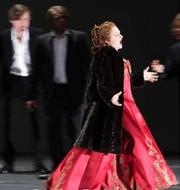 In Venice young men tell each other horror stories of the curse which lies on the Borgias and that one should be especially wary of the poisoner Lucrezia. The young men have their reasons: Lucrezia, so they say, can kill their fathers. Gennaro is the lone wolf within the group. He knows neither his father nor mother.
Boris Godunov (Mussorgsky)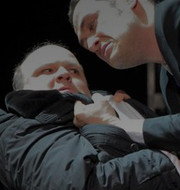 Boris Godunov work was composed between 1868 and 1873 in Saint Petersburg, Russia by Modest Mussorgsky. It is Mussorgsky's only completed opera and is considered his masterpiece. Its subjects are the Russian ruler Boris Godunov, who reigned as Tsar (1598 to 1605) during the Time of Troubles, and his nemesis, the False Dmitriy (reigned 1605 to 1606). The Russian-language libretto was written by the composer, and is based on the drama Boris Godunov by Aleksandr Pushkin, and, in the Revised Version of 1872, on Nikolay Karamzin's History of the Russian State.
Abduction from the Seraglio (Mozart)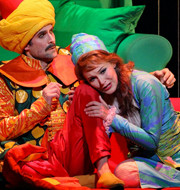 The Abduction from the Seraglio (Die Entführung aus dem Serail), also known as Il Seraglio by Wolfgang Amadeus Mozart is in three acts. The German libretto is by Christoph Friedrich Bretzner with adaptations by Gottlieb Stephanie. The plot concerns the attempt of the hero Belmonte, assisted by his servant Pedrillo, to rescue his beloved Konstanze from the seraglio of Pasha Selim. The work premiered on 16 July 1782 at the Vienna Burgtheater, with the composer conducting.
Spring Opera Adventure in Munich — April 22-27, 2016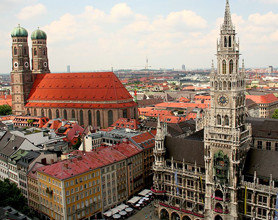 Spend a spring week in Munich, a bastion of culture and the heart of Bavaria. We will see three operas during our time together. The first performance will be Donizetti's Lucrezia Borgia. The title role will be sung here by the well-known soprano Edita Gruberova. Vasily Petrenko will conduct Mussorgsky's brooding masterpiece Boris Godunov. Finally, we will see Mozart's delightful Abduction from the Seraglio. Lisette Oropesa, one of the brightest young sopranos around, will sing Constanze. All performances will be in the magnificent National Theater, restored to its 19th century glory.
About the Instructor
Larry Axelrod has traveled to four continents for fun and cultural purposes. He has been arranging Opera Adventures in the United States and abroad for more than five years. He taught at the Music Center of the North Shore (now Music Institute of Chicago), different Elderhostel venues and Renasan. He taught many different classes over the course of fifteen years at Ghost Ranch Santa Fe, including an opera class and music theory at Columbia College in Chicago. Larry is a composer, pianist and conductor, whose musical activities have taken him around the United States and Europe. His compositions have been performed on composers' festival concerts around the United States and abroad.


For more information please call Larry at (773) 680-8811 or email larry223@aol.com.
About The Class
We will be attending:
Sunday, April 24 - Lucrezia Borgia (Donizetti)
Monday, April 25 - Boris Godunov (Mussorgsky)
Tuesday, April 26 - Abduction from the Seraglio (Mozart)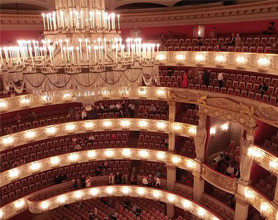 Saturday, we will have a private group tour in and around Munich. Sunday, Monday and Tuesday mornings from 9AM to about noon, we will gather to watch DVD performances, listen to CDs and learn about that evening's performance. There will be time for discussion and questions. Class participation is encouraged! The class will be held in a meeting room in the hotel. Lucrezia Borgia and Boris Godunov begin at 7:30. The Abduction from the Seraglio begins at 7. We will share a group dinner Monday evening before the start of the opera.

Useful links:
Bavarian State Opera: www.staatsoper.de
Hilton Munich City: www.munich-city.hilton.com


Hotel and Amenities
Our hotel will be the Hilton Munich City, an easy walk from the city center. It is directly connected to the Rosenheimer Platz S-Bahn station, which has easy connections to the airport and central railway station. Located in entertainment district Haidhausen, the hotel is within walking distance of the central shopping district at Marienplatz and in easy reach off Munich's tourist attractions and business districts. Many famous sights like the German Museum or Gasteig Cultural Centre are just a short walk away. There are four different dining options in the hotel itself. There is complimentary WiFi in the public areas of the hotel.
About Your Arrival and Departure
Arrival in Munich will be on Friday, April 22. We will meet briefly in the late afternoon to greet one another and discuss the logistics of our stay. Check out will be on Wednesday. April 27. If you wish to add nights at the beginning or the end of our trip, please contact me directly and I will make sure through the group reservations personnel that it is handled properly. There are non-stop flights to Munich from most major cities in the United States on Lufthansa, United and American Airlines. Check in time at the hotel is 2 PM. If rooms are not available, your luggage can be securely held at the front desk. Check out time is 12 noon.
Other Activities
Munich has centuries of history. It is also one of the biggest business hubs in Germany. As the heart of Bavaria, it has rich architectural and cultural gems to explore. Scenic trips to the Alps are close at hand. Museums include the Alte and Neue Pinakothek, Deutsches Museum, Pinakothek der Moderne, The Glyptothek and the Bayerisches Nationalmuseum.
Transportation to the Performances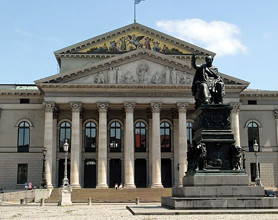 The National Theater is a short distance from the hotel. It is easily reached by U-bahn (subway) in 11 minutes. Walking is about 20 minutes. Taxis are plentiful as well.
Transportation to/from the Airport
The Hilton Munich City hotel is conveniently attached to public transportation with a direct train link to the main station and Munich airport. Trains run every 20 minutes and the trip lasts 35 minutes. The airport train stops at Rosenheimer Platz, directly beneath the hotel.
Fee and fee schedule
Double occupancy will be $1500 per person. Single occupancy will be $2000. This includes: three opera tickets, five nights hotel stay, daily breakfast, one lunch, one dinner and one private walking tour. A 50% deposit ($750 per person double, $1000 single) will hold your place. The balance will be due on or before February 22, 2016.

Cancellation policy: Before February 22, a full refund minus a $25 administrative fee will be issued. Before March 22, a 50% refund will be issued. Before April 8, a 25% refund will be issued. Any cancellation later than April 8, no refund will be issued.

Not included: Four dinners, four lunches, all air travel, airport transfers, transport to/from performances, admission to attractions/museums on the day tours.
Travel Insurance
Sometimes our personal libretti give opera a run for its money. Plans need to change quickly, forcing cancellation of an eagerly anticipated trip. I try to make my refund policy as clear, fair and straight-forward as possible, in line with what I see on other travel sites. However, as a single-person enterprise, I have little leeway with goods and services already purchased and time already invested. For this reason, I recommend travel insurance for those "just in case" moments. I can promise I really don't want you to cancel once you have signed up for one of my great opera adventures. I also don't want you to lose money. However I really must stay with my refund policy. So, consider travel insurance. It's a small investment that you really hope you won't need, but might be very worthwhile.

www.insuremytrip.com
www.travelguard.com
Registration
To register for Spring Opera Adventure in Munich 2016, click on the link here and download the registration form. Completed forms can be mailed to:
Lawrence Axelrod
5111 N. Monticello Ave.
Chicago, IL 60625