Lawrence Axelrod creates and leads
fun and successful educational opera trips in the United States and Europe.

Cassandra Speaks
was premiered by the San Jose Symphony (CA) in June of 1999 with music director Leonid Grin conducting.
Mr. Axelrod was a founder
and past president of the Chicago Composers' Consortium, the city's oldest non-university contemporary music group.
Biography, Lawrence Axelrod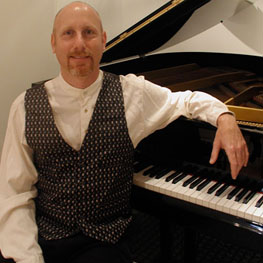 A recent review in Opera News states that Lawrence Axelrod is "a … composer whose fresh and distinctive music deserves to be more widely known." At once composer, pianist and conductor, Mr Axelrod's musical activities have taken him around the United States, Europe, South Africa, Australia and New Zealand. As a composer, Mr. Axelrod has had works done by Quintet Attacca, The Chicago Composers Orchestra, Palomar, Ensemble Dal Niente, Pinotage, The Lincoln Trio, The Duo Ahlert/Schwab, the Ensemble JungeMusik Berlin and The Verdi String Quartet in recent seasons. Most recently, Brown Line, a scherzo sort of was premiered by the Chicago Composers Orchestra in January 2018. Fits and Starts was premiered by the renowned woodwind group Quintet Attacca in October 2016. Two of his Brandenburg Fantasias were premiered by the Chicago Composers Orchestra in November 2014. His music has been included twice in the Sound of Silent Film project, presented by Access Contemporary Music both in Chicago and in New York's Symphony Space. Pos Metaphonos, a concerto for Bass Clarinet and orchestra was premiered by the Chicago Composers Orchestra with Lawrie Bloom of the Chicago Symphony as soloist in January of 2013. His solo piano work Common Threads was included in AIDS Quilt Songbook @20 concert in December of 2012 in the Great Hall at Cooper Union in New York City. In the dual capacities of pianist and composer, he performed all-Mazurka programs for several seasons combining classic and newly-composed compositions in this form. Two of these concerts were in South Africa of in May 2008 - one in Johannesburg and one in Cape Town. Other versions of these programs took place at the University of Wisconsin/Madison in March 2008, Butler University (Indianapolis, IN) in November 2007 and as part of the Fazioli Salon Series on WFMT in April 2007. He also opened the Swedish Electroacoustic Music Society's conference with a recital in Stockholm in May 2007, repeating the program in Lahr, Germany a few days later. He was guest composer at the Vielsaitig Festival in Füssen, Germany in August, 2004, where the Verdi String Quartet premiered his String Quartet No. 1, and his music was also presented on a portrait concert. Mr. Axelrod's compositions have been performed on composers' festival concerts around the United States. He was invited to perform a piano recital as part of the Eighth International Festival of Electroacoustic Music held in Havana, Cuba in March 2000, and returned there in March 2004 to give a second recital. His work for orchestra and tape, Cassandra Speaks, was premiered by the San Jose Symphony (CA) in June of 1999 with music director Leonid Grin conducting. This work was previously recorded by the Slovak Radio Symphony Orchestra, Szymon Kawalla conducting. Still Life with Sea and Whales, a work for soprano, flute and two guitars has been released on the CRS label. A CD of solo and small chamber works was released in the Fall of 2003. A CD featuring Mr. Axelrod's Six Brandenburg Fantasias, compositions using the instrumentation from Bach's famous works, was released in October 2013 on the Innova label, garnering significant attention, and was considered for Grammy nomination. The Heart Revived, a new recording, featuring works for soloists and chamber orchestra and solo piano, was released in August 2016, garnering an excellent review and critic's choice in Opera News.
Mr. Axelrod has received grants from the Illinois Arts Council, Chorus America, Meet the Composer and Arts International for the performances of his works. He participated in the exciting and challenging Composing in the Wilderness program in Alaska in the summer of 2018, resulting in performances of a new work in Denali National Park and as part of the Fairbanks (AK) Summer Arts Festival.
Mr. Axelrod is a founder and is past president of the Chicago Composers' Consortium. and was a member of CUBE Contemporary Chamber Ensemble. He is organizer and creator of Opera Adventures, highly successful educational appreciation trips in Santa Fe (NM) each summer and different European destinations each spring. His teaching experience also includes Music Theory at Columbia College (Chicago, IL), and classes for young people. Lawrence Axelrod received his undergraduate degree from Amherst College and a Master of Music Degree in orchestral conducting from Northwestern University.